Review: The Official Catalog of the Library of Potential Literature
by
Anna Laird Barto
•
02.15.2011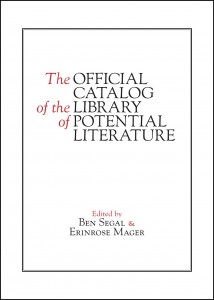 The Official Catalog of the Library of Potential Literature (Cow Heavy Books, 2011), edited by Ben Segal and Erinrose Mager, is more than just a collection of short blurbs describing would-be books; it is a droll and scalding glimpse into the witches cauldron of the postmodern literary imagination.
No, really.
The contributors to this collection, from well-known writers like Aimee Bender and Matt Bell to newer voices like Mallory Rice and Sean Higgins, do more than satirize the tired language of book reviews, dust jackets, and literary theory–they take our preconceived ideas about what is literature and turn them upside down and inside out. Posited here are books by authors both real (Vladimir Nabokov, Georges Perec) and imaginary; books by the dead, and yes, the undead; books in the form of cubes, wooden drawers, sounds; books that can only be deciphered when held up to a mirror.
In some cases the prose is as irritatingly self-conscious and convoluted as its object of ridicule, but more often the language, although hyperbolic, is to be savored. For example, this from Lance Olsen:
"Pages ornamented with trompe-l'oeil, paperclips and coffee stains and buzzing houseflies, some busy with illegible runes that dissolve when exposed to light, three that smell like roses or lemons (depending on whether a man or woman is reading), two that stain with the bloody fingerprints of the those who handle them, one that ignites when brushed with breath, thirteen sewn from baby skin, one that moans when touched, and one that screams—yet all without mass, unimaginable, and invisible."
But my favorite has to be the blurb by Lucas Astor, PhD (courtesy of Samuel Ligon) which contains the embedded narrative of the reviewer's affair with the would-be book's author, who taught him, "over and over, first in my office, then in her apartment, also in the woods behind Barrett Hall and in so many other places, at AWP in the New York Hilton for example," that their thirty-five-year age difference was inconsequential and that he should not under any circumstances introduce her to his agent.
Not surprisingly, this collection is packed with enough obscure references to scare away the lay-reader, and to have the AWP crowd snorting our lattes through our noses. But it also has zombies, so check it out.
Both comments and pings are currently closed.