Shaken, not Stirred
by
Elizabeth O'Connell-Thompson
•
07.22.2010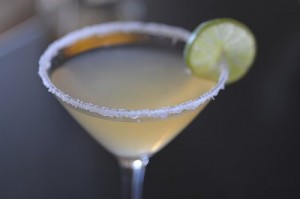 I don't know how the weather is where you are, ladies and gentlemen, but it's hotter than a really hot thing where I'm sitting. Okay, that's not entirely true. The supermarket café I am stealing an Internet connection from is pretty near freezing, but the outside world is all but made of sweat and humidity, and the two are not necessarily unrelated. Say it with me, 'Ew.'
What is there to do on days when you barely have the strength to apologize to the person you're peeling yourself off of in the subway as you stumble to the next air conditioner? Anyone who's seen a very enlightening episode of Hey Arnold! will know that the usual solutions (the public pool, an afternoon movie, a fire hydrant, etc.) will only end in disappointment. In these dark times, we must turn to the great literary minds. When they are done with their own rounds of, 'Ew. Gross. Don't touch me. Ew,' the only word they will find is, 'Drink.'
And who are we to argue?
Chum it up with a real man's man, and try the Papa Doble (aka Hemingway Daiquiri).
2 ounces silver rum (Cuban rum if you have it)
3/4 ounce fresh lime juice
1/2 ounce fresh grapefruit juice
1/2 ounce Maraschino liqueur
Tools: cocktail shaker, strainer
Glass: pre-chilled coupe or cocktail glass
Place all ingredients plus ice in a shaker and shake well, again being careful not to overshake. Strain into a chilled glass and enjoy.
~
Pretend you're a spy, sipping an Americano.
Fill an old-fashioned glass with ice cubes.
Pour in 1 ounce Campari and 1 ounce sweet vermouth.
Top off with club soda.
Garnish with lemon twist or orange slice.
~
Expatriate searching for a story or otherwise, a Journalist might be just what you need to beat the heat and meet your deadline.
2 oz gin
1/2 oz sweet vermouth
1/2 oz dry vermouth
2 dashes of curacao
2 dashes of lemon juice
Dash of aromatic bitters
Pour the ingredients into a mixing glass filled with ice.
Stir well.
Strain into a chilled cocktail glass.
If you weren't thirsty before, I hope you are now.
Both comments and pings are currently closed.