We Made Some Waves
by
David Duhr
•
06.27.2013
Fringe published its last issue on Monday, June 24. Today, managing editor David Duhr gets all nostalgic on your asses.

In these pages Lou Gallo once wrote "I am a complete, woebegone nostalgician. And nostalgia is a disease." I too suffer from this disease. Like, badly. Nostalgia is my constant and unwelcome companion, especially these days, so far removed from my adoptive Boston home. Like a bratty child, nostalgia kicks me in the shins as we walk down these dusty Texas streets, demanding that I take us home, back to where Boylston meets Tremont, tomato soup and grilled cheese at Sweetwater, cold beer at the Tam—literary revolution at Jacob Wirth's.
I wasn't there the night Fringe was founded, but I'm nostalgic for it anyway. Nostalgia doesn't always play by the rules. The night Fringe came into existence I was working in a piece-of-shit corporate bookstore in D.C., my finger so far from the pulse of contemporary writing that I didn't even know online lit journals were a thing. I was, although I didn't know it at the time, nearing the end of a phase where I couldn't give an eighth of a damn about anything written after 1900. Literary magazines, experimental, political, topical contemporary writing—these were not of my world.
Fringe changed that. Far more than any MFA program ever could have. From the moment I joined the staff, our contributors, and many submitters whose work we had to turn down against our will, showed me just how exciting new writing can be. I have fond feelings about every single story published during my time as fiction editor—which makes me as lucky as a fiction editor can possibly be. And reading so much interesting work from the fringe has colored my own writing, leaving a lasting impression that has done me nothing but good.
As for my coworkers: If I achieve any measure of success (however I choose to define it) in the literary world, it will be thanks in large part to Fringe. Which means it will be thanks in large part to: you, readers like Amanda, Brandon, and so many others, for pushing the writing you believed in, and for checking me all those dozens of times I was on the verge of doing something idiotic; you, Shuchi, for taking me in and showing me the ropes, for learning with me that marathon editing sessions aren't always (or ever?) advisable, but can be loads and loads of fun, and for handing me the fiction reins when it was time, but remaining a good friend to this day; you, Anna, for working so hard for so long and for so little acclaim, for calmly and quietly one-upping me every time I thought I'd said the funniest thing possible about a bizarre submission, and then for stepping in and showing me how the job's really done; you, Anna Lena, Julia, Janell, Llalan and Heather, for so warmly welcoming me into the fold, allowing my input, making me laugh, teaching me so much, and always seeking out, finding, and publishing the kind of work that opened my eyes to what amazing things are happening outside the mainstream; and you, Lizzie, our lodestar, for having faith in and believing in our abilities, and for letting me help steer this ship. We made some waves.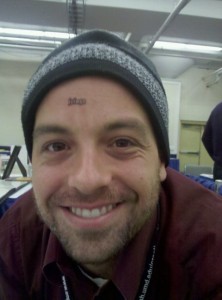 Like any true nostalgician—which, in fitting perfectly with what Fringe is about, is not recognized as a word—I'll miss even the prickly moments. Frantic discussions over libel lawsuits, feverish late-Sunday nights with Monday-morning deadlines, morning shifts at the AWP table when all you want to do is crawl under a rock and die. [See hangover photo] My constant companion, my disease, doesn't want it to end.
And who knows. Maybe this isn't an end after all. Maybe this is just a timeout before the next great new and fringey thing. Jacob Wirth's, 2015, y'all?
Both comments and pings are currently closed.