A Colloquy With Jess Stoner
"Yet how much room for memory there is / In the loose girdle of soft rain" – Hart Crane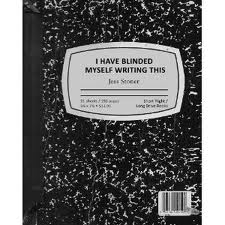 One remarkable aspect of literature is its ability to portray a compelling and convincing voice. More importantly, a book's singular parts must have the substance to function as part of a larger unit. I'm reminded of nucleosynthesis in nuclear physics: a bound system is weaker than its singular parts; here, though, a masterful composite of fictional elements give the collection the energy to resonate harmoniously. I Have Blinded Myself Writing This delivers a story possessed of realistic characters and tension that moves the reader through fragmented memories of one woman's life.
Of the exceptional remnants in our human history are letters that remain after someone has died. For instance, there are the letters van Gogh wrote to his brother from Saint-Rémy, Horace's Epistles, and more recently, García Lorca's letters to Ramírez de Lucas that reveal aspects of their clandestine relationship.
It is with measure and restraint through successive communication that allows the mind to reflect and react with intellect and passion; and in keeping with this idea, I found it apropos to conduct a colloquy with author Jess Stoner via electronic letters.
Here is our correspondence:


May, 2012
Dear Jess,
An echo of other writers came to mind when I received your book, e.g., Anne Carson (Nox), Douglas Coupland (Life After God), and Salvador Plascencia (The People of Paper). Your collection is a notable contribution to their tradition. Though an immediate distinction was in its presentation, what were your ideas behind this? How did you arrive at including layers of visual imagery?
Yrs,
Ruben
*
Dear Ruben,
I envisioned the book as a collection of memories the narrator, the mother, was writing for her daughter. A memoir meant to be private, for an audience of one. The composition notebook as journal seemed to be the way: not only to suggest that the writings were private but also to hopefully incite the reader to approach the book differently—not solely as a "book" (whose form some people feel is sacred) but as an object (a notebook) whose pages they might willingly rip. I am addicted to a certain kind of reading experience: one in which you simultaneously disappear into a text and are always aware you are outside of it. So the book, the content, has an organized progression, but I hoped the form, the idea of personal writing, outside of a "project," would challenge that. (Similar to how you are "doing" this review, I think).
At the same time, I felt the images were vital: as a way of being too true to the work of memory (the image sends us into memory, the reasoning, and the work of different parts of cortexes). I guess I see the book as a whole as a kind of essaying: an attempt to "show" how memory works, how it's fragmented and dependent on the senses.
I like what you said about the images being layers. I hoped they would linger in the reader's mind pages later—to alter or blot out or even infect the written words.
(Sigh)
And now my day has gotten away from me—this was written at 5:15am and it is now eight hours later, so I'm going to have to do that thing where I end a letter abruptly and inelegantly.
Thanks for this project, this idea, this way to connect.
More soon,
Jess