Kim Addonizio: The Poet by Starlite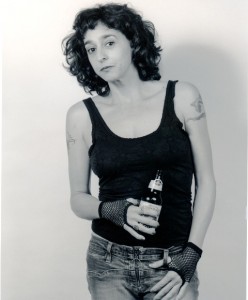 Kim Addonizio's fifth poetry collection, Lucifer at the Starlite, was recently published by W.W. Norton. Her collection Tell Me was a National Book Award Finalist. She has authored two instructional books on writing poetry: The Poet's Companion (with Dorianne Laux), and Ordinary Genius: A Guide for the Poet Within, as well as two novels, Little Beauties and My Dreams Out in the Street. Her awards include two fellowships from the National Endowment for the Arts, a Guggenheim Fellowship, a Pushcart Prize, a Commonwealth Club Poetry Medal, and the John Ciardi Lifetime Achievement Award. She teaches private workshops in Oakland, CA, and online. Her previous occupations: waitress, fry cook, tennis instructor, Kelly Girl, attendant for the disabled, auto parts store bookkeeper. Rachel Dacus had the opportunity to ask her about life as a working poet, the purpose of poetry, and her own writing practice.
What is your definition of a working poet?
I don't think I have one, though I think there's a difference between writing a poem and being a poet. Just like there's a difference between picking up your guitar once in a while to play a few songs, and being a musician.
What is the purpose of poetry?
What is the meaning of life?
You write compellingly about love and loss. Do you continue to find this theme a central one in your work, or are you moving in other directions?
I'm always trying to go someplace new, but I am also always revisiting the same territory.
Which poets were your earliest influences, and why did you gravitate to them?
I just sort of found my way in the dark. If I really go back to the beginning, I think of A Child's Garden of Verse, those poems. "Winken, Blinken, and Nod," "The Owl and the Pussycat."  I used to recite "Little Orphan Annie" to my elementary school classes. The refrain was "And the goblins will get you if you don't watch out!" I think I delivered that line with great flair, and it always had an effect. Maybe that turned me on to the potential of a catchy, musical line.
What should a poem accomplish for the reader?
A connection to life.
When you say a poem should connect the reader to life, what is the kind of connection a poem makes, versus say the connection a novel makes?
We all respond so differently—to life, to art (or not), to different forms. Some people are ravished by opera, which doesn't do a lot for me.  Does opera connect more deeply to life?  For those it speaks to, I guess it does.