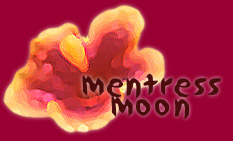 Welcome to the April 2000 issue of Mentress Moon
a quarterly online journal of writing and art by women.
(in other words, a mouthful)
in this issue:
(sisters and shades)
Linda Clare's short story, "Cryogenics".
"Colour" by Erin Elizabeth, editor of Stirring Mag.
Julie Damerell , administrator of the Sistine Chapbook, has two poems, "Sister" and "Looking at Stones".
Michaela A Gabriel greets us from Vienna with "Abortion" and "deborah".
Four poems from Esther Altshul Helfgott: "The Old Woman", "Sister", "If I Could Stop the Words, I Would" and "Che".
"Camellia", a short story by Behlor Santi.
and Acme Poet Sherry Saye's poems "The Heat of Spring", "Revisiting Thunder Ridge" and "The Alfalfa Field".
---
last updated 19 May 2000
back to current issue